Smart-UPS


APC Smart-UPS 1000VA USB & Serial 230V (SUA1000I) 
- (Used)
APC Smart-UPS,670 Watts /1000 VA,Input 230V /Output 230V, Interface Port DB-9 RS-232, SmartSlot, USB
Runtime half load @335W: 21 phút; full load @670W: 6 phút
Output Power Capacity
670 Watts / 1000 VA
Max Configurable Power
670 Watts / 1000 VA
Nominal Output Voltage
230V
Output Voltage Note
Configurable for 220 : 230 or 240 nominal output voltage
Output Voltage Distortion
Less than 5% at full load
Output Frequency (sync to mains)
47 - 53 Hz for 50 Hz nominal, 57 - 63 Hz for 60 Hz nominal
Topology
Line Interactive
Output Connections
| | |
| --- | --- |
| (8) IEC 320 C13 | |
| (2) IEC Jumpers | |
Nominal Input Voltage
230V
Input Frequency
50/60 Hz +/- 3 Hz (auto sensing)
Input voltage range for main operations
160 - 286V
Input voltage adjustable range for mains operation
151 - 302V
Battery Type
Maintenance-free sealed Lead-Acid battery with suspended electrolyte : leakproof
Typical recharge time
3 hour(s)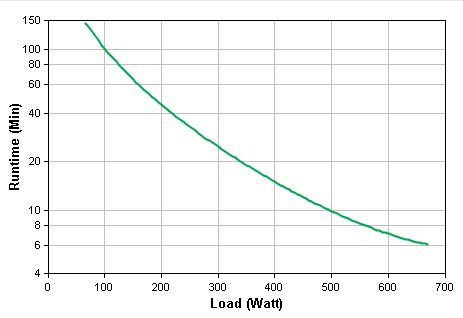 Curve fit to measured runtime data. All measurements taken with new, fully charged batteries, at typical environmental conditions, with no electrical input and balanced resistive load (PF = 1.0) output.
Communications & Management
Interface Port(s)
DB-9 RS-232, SmartSlot, USB
Available SmartSlot™ Interface Quantity
1
Control panel
LED status display with load and battery bar-graphs and On Line : On Battery : Replace Battery : and Overload Indicators
Audible Alarm
Alarm when on battery : distinctive low battery alarm : configurable delays
Emergency Power Off (EPO)
Tùy chọn
Surge Protection and Filtering
Surge energy rating
320 Joules
Filtering
Full time multi-pole noise filtering : 0.3% IEEE surge let-through : zero clamping response time : meets UL 1449
Shipping Height
381.00 mm
Operating Environment
0 - 40 °C
Operating Relative Humidity
0 - 95%
Operating Elevation
0-3000 meters
Storage Temperature
-15 - 45 °C
Storage Relative Humidity
0 - 95%
Storage Elevation
0-15000 meters
Audible noise at 1 meter from surface of unit
41.00 dBA
Online Thermal Dissipation
100.00 BTU/hr
Regulatory Approvals
C-tick, CE, EN 50091-1, EN 50091-2, GOST, VDE
Standard Warranty
2 years repair or replace
REACH
REACH: Contains No SVHCs
PEP
Available in Documentation tab
EOLI
Available in Documentation tab
Other Environmental Compliance
China RoHS
Bình ắc quy gắn trong UPS này có thể dùng một trong các loại sau:
Loại ắc quy kín khí (AGM) có van điều áp (VRLA)
[
2
]
12V-12Ah
hoặc
12V-14Ah
Kích thước của các loại ắc quy này là: 
L151 x W98 x H95 x TH101 
(
±1)
(
±1mm)
Các loại ắc quy này cùng chung kích thước và thiết kế, chúng khác nhau về dung lượng Ah và trọng lượng.
UPS này được thiết kế cùng một khung (size) với UPS model SU1400I, SU1500INET, SUA1500I.
Bình ắc quy mặc định trong UPS 1000VA (gồm SU1000INET, SUA1000I) là 2 chiếc 12V-12Ah hoặc 12V-14Ah. Phía trên đầu ắc quy được chắn bởi 2 gờ cản. Tháo 2 gờ này ra các bạn có thể thay thế bằng 2 ắc quy có dung lượng 12V-17Ah, 12V-18Ah hoặc 12V-20Ah (ba loại ắc quy này cùng kích thước)