Back-UPS RS
Back-UPS RS 500VA (BR500I)
 
APC Back-UPS RS,300 Watts /500 VA,Input 230V /Output 230V
Runtime half load @150W - 11 phút; Full load @300W - 3 phút
Includes: CD with software, Cord management straps, Qty 1 - Detachable 1.2 m IEC power cord, Qty 1 - Detachable 1.8 m IEC power cord, Telephone Cable, USB cable, User Manual, Warranty card

Battery (AGM VRLA): 12VDC, [12V-7.2Ah ~ 12V-9Ah] x 01
Output Power Capacity
300 Watts / 500 VA
Max Configurable Power
300 Watts / 500 VA
Nominal Output Voltage
230V
Output Frequency (sync to mains)
50/60 Hz +/- 5%
Topology
Line Interactive
Waveform Type
Stepped approximation to a sinewave
Output Connections
| | |
| --- | --- |
| (1) IEC 320 C13 (Surge Protection) | |
| (3) IEC 320 C13 (Battery Backup) | |
Nominal Input Voltage
230V
Input Frequency
50/60 Hz +/- 3 Hz (auto sensing)
Input voltage range for main operations
168 - 280V
Battery Type
Maintenance-free sealed Lead-Acid battery with suspended electrolyte : leakproof
Typical recharge time
8 hour(s)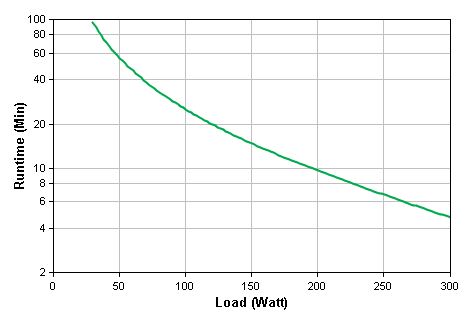 Curve fit to measured runtime data. All measurements taken with new, fully charged batteries, at typical environmental conditions, with no electrical input and balanced resistive load (PF = 1.0) output.
Communications & Management
Control panel
LED status display with On Line : On Battery : Replace Battery and Overload indicators
Audible Alarm
Alarm when on battery : distinctive low battery alarm : overload continuous tone alarm
Surge Protection and Filtering
Surge energy rating
300 Joules
Data Line Protection
RJ-45 Modem/Fax protection (two wire single line)
Shipping Height
231.00 mm
Operating Environment
0 - 40 °C
Audible noise at 1 meter from surface of unit
45.00 dBA
Regulatory Approvals
A-tick, C-tick, CE, GOST, NEMKO
Standard Warranty
2 years repair or replace
Bình ắc quy gắn trong UPS này có thể dùng một trong các loại sau:
Loại ắc quy kín khí (AGM) có van điều áp (VRLA)
[1] 12V-7.0Ah hoặc 12V-7.2Ah hoặc 12V-7.5Ah hoặc 12V-8.0Ah hoặc 12V-9.0Ah
Kích thước của các loại ắc quy này là: 
L151 x W65 x H94 x TH102 
(
±1mm)
Các loại ắc quy này cùng chung kích thước và thiết kế, chúng khác nhau về dung lượng Ah và trọng lượng.